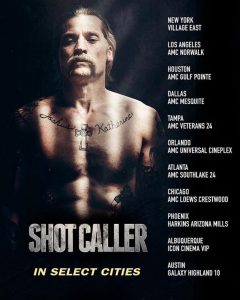 Omari Hardwick stars in Saban Films and Lionsgate newly released film "Shot Caller." The film is centered on a newly released prison gangster who is forced by the leaders of his gang to orchestrate a major crime with a brutal rival gang on the streets of Southern California. Omari plays a cop named Kutcher who suffers from PTSD and is investigating the crime. The film stars Nikolaj Coster-Waldau as the lead character, Jacob. The film is directed by Ric Roman Waugh.
Omari recently sat down with Ramascreen.com to talk about the film. Omari describes the film as "raw." In the interview Omari states, "Ric takes a really cool life perspective and thinks why mess around when I get an opportunity to do a film, let it be that of telling a story that gets you right in the heart like a stake being driven through the heart." Omari went on to say, "Ric did a helluva job of scaring us all into learning what we need to learn about prison."
"Shot Caller" is available now on DirecTV and is in select theaters.
See the full interview here:
INTERVIEW: Omari Hardwick Talks 'SHOT CALLER' And Its Comparison To His 'POWER' Series