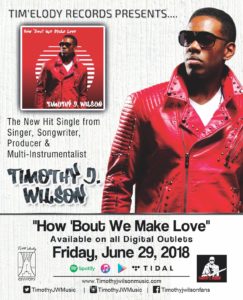 Singer, songwriter, producer, multi-instrumentalist Timothy J. Wilson is getting ready for the long awaited release of his brand new hit single entitled, "How 'Bout We Make Love", which is slated for release on June 29, 2018 on his label, Tim'elody Records.
Timothy started his music career in his hometown of White Plains, NY. In 2011, he relocated to Atlanta, GA to further build his music career and released his first LP, "Kiss Me" on his label, Tim'elody Records. He followed up his first LP with the release of his second EP, "Born to Love" in 2013. In May 2015, Timothy released his third EP "LOVESONGWRITER", quickly followed by the November release of his fourth EP, "BEATS, BASS, PARTY". A few months later in May of 2016 he released "The Unplugged Sessions" LP.
Since 2011, Timothy has made his mark in Atlanta and has performed at the Apache Café, Urban Grind, Kat's Café, Centennial Olympic Park, Sweet Auburn Festival, The Dogwood Festival and ATL Live on the Park just to name a few. He has also appeared as a featured singer on BET's "Let's Stay Together" along with playing the role of Verdine White, the legendary bassist of the band, Earth, Wind, & Fire in the Warner Brothers film, "The Nice Guys", starring Russell Crowe and Ryan Gosling.
His latest single "How 'Bout We Make Love" will be available on Spotify and Apple Music on 6/29/18. Check out Timothy J. Wilson at www.timothyjwilsonmusic.com.