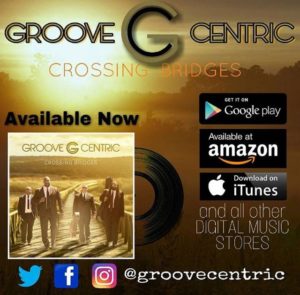 Atlanta based trendsetting jazz group, Groove Centric has released their long awaited debut album titled Crossing Bridges. How can you define Groove Centric, well the word Centric is defined as "at the center," Groove is defined as "a rhythmic pattern." With that said Groove Centric keeps it in the pocket with their melodic blend of R&B, jazz and blues.
Groove Centric started in 2008 in Atlanta, GA. They have performed all around the city at venues such as St. James Jazz Restaurant, Churchill Grounds, the legendary Paschal's Restaurant, Sweet Georgia's Juke Joint, The Artmore Hotel, Jazz Café, Acoustix Jazz Restaurant, Ambiance Lounge, The Jazz Loft, Michon's Loft and most recently at City Winery. They have performed with artists such as Malcolm Jamal-Warner, Monica, Musiq Soulchild, Jimmy Heath, India Arie, Jeff Lorber, Oliver Lake, Mighty Blues Kings, Sonny Emory and Al Green to name a few.
Groove Centric is Mike Jones on sax, Keith Barnes on guitar, Joel Powell on bass and Brien Andrews on drums. Their debut album Crossing Bridges is now available for purchase on all digital outlets as well as physical copies at upcoming shows and by contacting them via their website www.groovecentricmusic.com.
Check them out and you won't be disappointed.