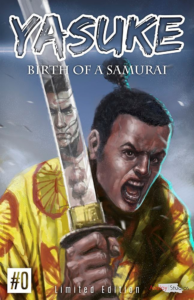 Deranta' Avaloy, founder and CEO of Avaloy Studios has launched a Hatchfund crowdfunding campaign for the comic/anime series project, Yasuke: Birth of a Samurai. All donations to the campaign are tax deductible through Hatchfund.org. Avaloy Studios created the Yasuke project out of the desire to fill a gap that has been long ignored in the "superhero genre." "The need for a hero of color that is not a sidekick, a joke or a character that is mandated by those that can't relate to the African American culture," says Deranta' Avaloy. "The biggest thing we want to accomplish is to provide a character that the children can look up to, read the stories, watch the cartoons and be able to relate to the main characters and know that they are able to see reflections of themselves and feel a sense of pride."
The story of Yasuke is based in the 1500's era of Japan upon his arrival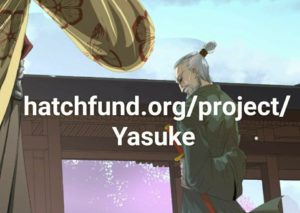 in Japan in 1579. During this time some of the people of Japan had never set eyes on an African before. The story basically unfolds as Yasuke begins training to be a samurai under the guidance of Oda Nobunga but what keeps holding him back is the mental anguish he suffered during his time as a slave.
Production has started for the Yasuke comic book and animated series but the budget is getting low. "The comic book is 50% done but we need more funding to finish paying for the remaining pages to be done and also for printing costs to be done for a limited run of the preview issue." says Deranta' Avaloy. "I hope by taking the time to look at the cover and the 1st page from the comic you can see we really are trying to make this something special." The amount needed to complete the comic book is $3,500. To date about 8% of that has been raised.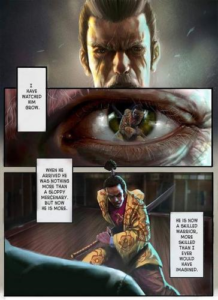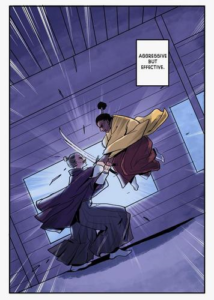 Avaloy Studios is a Multimedia company specializing in Film/TV production, music production & video game design. Deranta' Avaloy is the founder and CEO. From Atlanta, Ga, Deranta' considered movies and television shows to be not only entertainment but also an outlet for his own ever growing imagination. As a youth, he decided to become an actor and study with the Alliance Theater in Atlanta, Ga followed by studying theater at North Atlanta High School where he was enrolled in their magnet program. As an actor/scriptwriter, animator, content creator, producer and director he has directed, produced and starred in several web series including "Under the Radar", "Not These Guys", "Out of My Head", and "The Clayton Chronicles" featuring comedian Clayton English. Deranta's love and excitement for the creative process of acting, animation, coding and editing is what continues to drive his passion and he continues to receive recognition and gain more support for his work.
For more information about making a tax deductible donation to the Yasuke: Birth of a Samurai project, please visit https://www.hatchfund.org/project/yasuke.
Yasuke: Birth of A Samurai Hatchfund Campaign Video:
Yasuke: Birth of A Samurai Teaser Trailer (Big Rube Rendition):